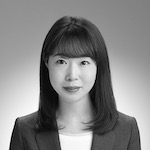 Yuka Nakaniwa is a Programme Assistant for the Strategy and Management Office (SMO). Before joining UNU-IAS, she worked as a finance and accounting specialist at Hitachi Ltd., where she assisted in meeting business targets through financial analysis, managing business performance and compliance, as well as conducting monthly and quarterly closings. She also held internships at private companies including as a writer for a sustainability-oriented media outlet, and as a sales and marketing staff in the field of health and well-being.
Yuka holds a Bachelor of Laws degree with a major in International Law and Business. During her undergraduate studies, she completed a business internship in Vietnam, which sparked her interest in development studies and led her to attend a study abroad programme at the University of Manchester to study sustainability and social justice.
Through her studies and experiences in the private sector, Yuka has been inspired to accelerate action for a sustainable future and well-being of society.