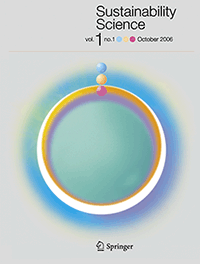 The scientific journal Sustainability Science is published by Springer on behalf of UNU-IAS and the Integrated Research System for Sustainability Science (IR3S) of The University of Tokyo.
The journal provides a platform for building sustainability science as a new academic discipline which can point the way to a sustainable global society by facing challenges that existing disciplines have not addressed. These include endeavors to simultaneously understand phenomena and solve problems, uncertainty and application of the precautionary principle, the co-evolution of knowledge and recognition of problems, and trade-offs between global and local problem solving.

The journal promotes science-based predictions and impact assessments of global change, and seeks ways to ensure that these can be understood and accepted by society. Sustainability Science creates a transdisciplinary academic structure and discovery process that fuses the natural sciences, social sciences, and humanities.
To view the journal's contents and download articles, please visit the SpringerLink page for the journal.