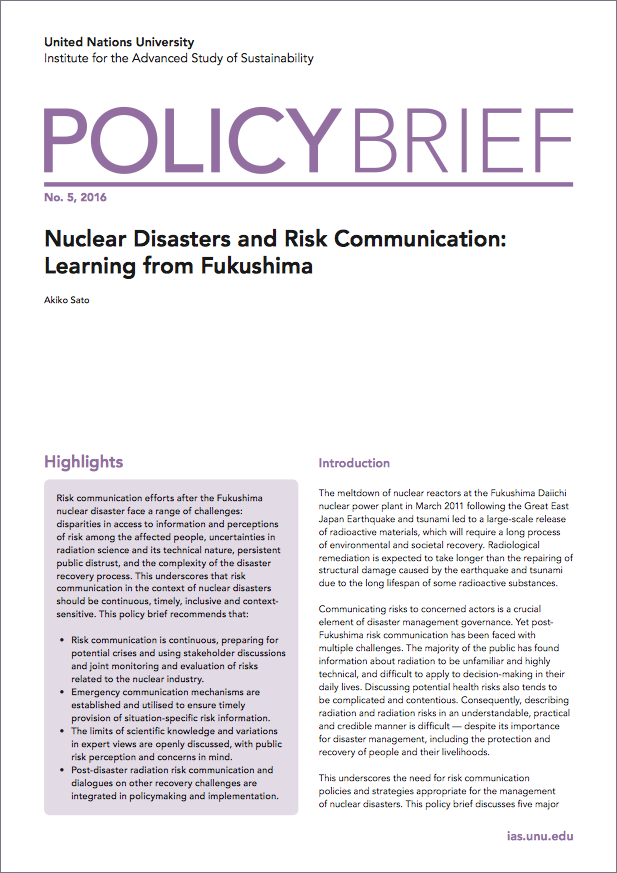 UNU-IAS Policy Briefs present analysis and policy recommendations for addressing sustainability challenges, in a short and accessible format. The series aims to inform high-level policymaking and debates, enhancing research uptake and providing actionable recommendations for decision-makers at the global, national and local levels.
Each policy brief is the result of UNU-IAS research within the institute's three thematic areas: sustainable societies, natural capital and biodiversity, and global change and resilience. Launched in 2015, the series is designed to complement more in-depth UNU-IAS academic publications such as journal articles, books and working papers. An external peer review process engages both scholarly experts and policymakers to ensure quality, accuracy and added value.
This publication series is a key initiative for the policy development role that is at the core of the UNU-IAS mandate. It recognizes that strengthening links between research and policymaking is critical to advancing global sustainability, as emphasized in recent global agreements such as the 2030 Agenda for Sustainable Development and the Paris Agreement on climate change.
All UNU-IAS Policy Briefs are available to read and download through UNU Collections.