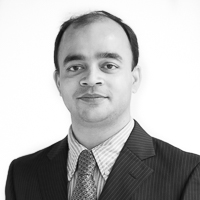 INSTITUTE:

UNU-IAS

OFFICE:

Jingumae 5-53-70, Shibuya-ku, Tokyo 150-8925, Japan

E-MAIL:

kumar@unu.edu

PHONE:

+81 (0)3-5467-1212

NATIONALITY:

インド
Research Interests
Hydrogeology
Hydrological Modelling
Water resource management
Education
Master of Philosophy in Environmental Science, Jawaharlal Nehru University, India
Master of Science in Environmental Science, Jawaharlal Nehru University, India
PhD from the Department of Geo-environmental Science, University of Tsukuba, Japan
Biographical Statement
Dr. Pankaj Kumar joined UNU-IAS as a JSPS postdoctoral fellow in October 2014. He did his doctoral research in hydrology at the Department of Geo-environmental Science, University of Tsukuba, Japan as a Japanese government scholar (Ministry of Education, Culture, Sports, Science, and Technology). He completed his masters degrees (Master of Science and Master of Philosophy both in Environmental Science) from Jawaharlal Nehru University, India. He also holds a postgraduate diploma in Disaster Management from Indira Gandhi National Open University, New Delhi. He has research experience in the field of hydrology at reputed academic institutes both in India and abroad. His research interests mainly include numerical simulation in hydrological science to understand contaminant transport phenomenon; physical, chemical and isotope hydrogeology; fluoride pollution; surface water–sea water–ground water interaction; coastal aquifers; global warming and recent aspects in environmental science. At present he is actively engaged in developing methodologies for conjunctive use of surface and groundwater to enhance community resilience to address growing water demands under global change.
In addition to his work at UNU-IAS, he is also serving as a chapter scientist for the Fifth Assessment Report (AR5) of the Intergovernmental Panel on Climate Change (IPCC). He is mainly associated with chapter two entitled "Foundations for Decision Making" of the IPCC's Working Group-II report that focuses on "Impacts, Adaptation, and Vulnerability".
Before joining UNU-IAS, Dr. Kumar worked as an assistant professor in the Department of Environmental Science and Technology at the Institute of Science and Technology for Advanced Studies and Research, Sardar Patel University, Anand, Gujarat, India for two years. He has numerous research publications including several peer reviewed journal articles, book chapters of international repute, national and international conferences and a monograph to his credit.