2016•12•01 Tokyo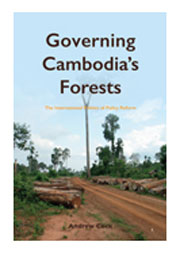 UNU-IAS Research Associate Andrew Cock's book Governing Cambodia's Forests: The International Politics of Policy Reform, published by Nordic Institute of Asian Studies Press, Copenhagen, has enjoyed positive reviews since its summer release.
In his review in the Eurasian Journal of Forest Science, Mathieu Guérin calls the book "important because it challenges given preconceptions on tropical forestry. [Cock] offers case studies, of which implications go way beyond Cambodia, and prospects of thinking for any aid actors in the tropical realm. It is indeed about time to ask ourselves why and how foreign aid can support the predatory actions of local elites, with the complicity of international consultants, and lead to large scale environmental depredations."
Writing in the Journal of Contemporary Asia, Frédéric Bourdier states that, aside from Cock, "nobody has written so extensively on 'forest governance' in the context of international politics of policy with a particular focus on its economic dimension." He refers to the book as a "must-read for development professionals, and not only for those dealing with forest issues. Both policy makers, implementers and forest specialists should read the book if they want to broaden their vision of what development means and [for] what this concept, when applied to forest governance, makes sense."
For more information about the book, please see our previous article here.